Tube Modules
H+E Tube Modules are used in settlement tanks to provide highly efficient settlement of flocculated solids in industrial and municipal applications. They reduce the physical size of the tank required compared to a conventional settlement tank. They are used in our standard range of Tube Settlers, but they can also be used in existing clarifiers to improve settlement efficiency and therefore improve the quality of the outflow without the need to replace the clarifier tank itself. They have been used across many sectors for well over 30 years and hence their efficiency and long life has therefore been proved many times.
H+E Tube Modules are fabricated in ABS plastic and are therefore light and easy to handle on installation.
H+E Tube Modules are "lamella" devices but, unlike conventional lamella designs, use "square" section tubes, with each row of tubes running in the opposite direction to the previous one. This makes the settlement even more efficient and also makes the module itself physically stronger to handle when installing, as well as ensuring a long service life. The square section of the tubes also means that they are less prone to accumulating solids than other designs and it is very easy to clean out any accumulation of solids once in a while.
They are eminently suitable for settlement of solids in situations where the collected sludge volume is relatively high, unlike conventional lamella designs, which cannot handle high sludge volumes efficiently because of their quite small sludge collection cones.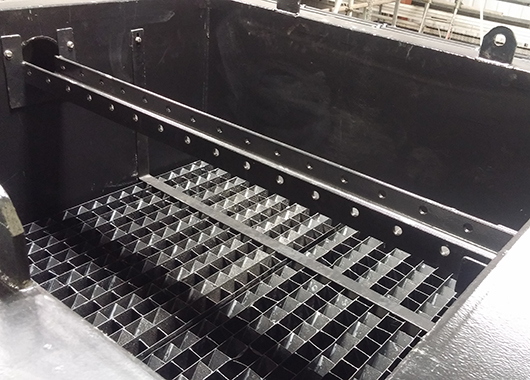 Tube modules are used to:
Minimise the size of a new clarifier

Improve hydraulic efficiency

Improve final effluent quality

Minimise investment cost

Retrofit in existing settlement system

Enable quick and easy installation
They are manufactured in ABS plastic and are light and easy to move and install. They are also long-lasting; 20+ years is quite normal!
For details of the range of sizes and advantages of Tube Settlers, you can download a leaflet here.