Watercell Membrane Bio Reactor (MBR) systems
Watercell Membrane Bio Reactor systems are pre-fabricated, containerised systems. They are therefore quick and easy to install and simple to move to another location. They treat wastewater very efficiently and therefore produce very high quality treated wastewater.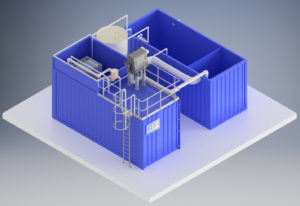 Applications
Watercell systems are therefore particularly suitable for applications where:
Space Available is very limited.
Site Location is remote and access is therefore difficult.
 Very high quality treated wastewater will protect a sensitive environment.
Treated wastewater must be re-used, perhaps because water is scarce.
Advanced Design
Watercell systems use Membrane Bio Reactor (MBR) technology. The advanced design of the systems ensures:
Removal of virtually all bacteria present.
 They require less space than conventional technology.
 Reduction of the quantity of sludge needing disposal, therefore reducing cost.
A highly stable process. Consequently, operation is very simple.
Very high treated wastewater quality, which therefore allows its re-use.
System Capacities
The range of Watercell systems handles 50 – 500m3 per day. Its modular design therefore treats  higher volumes where necessary.
Click on image to enlarge:

Re-use of Treated Water
Re-use of the the high-quality treated wastewater is therefore possible. This may be particularly important when the local water supply is scarce.
Applications include:
Local crop irrigation.
Factory water supply.
Drinking water supply.
High purity water supply by feeding it to a reverse osmosis unit.
You can see full details of the range in the Watercell leaflet here.