H+E has just delivered to the client's site the Pre-assembled parts of a Treatment Plant to handle wastewater from a new highly efficient Waste-to-Energy Plant that uses Refuse-Derived-Fuel (RDF) to produce electricity and at the same time minimise overall CO2 emissions to atmosphere.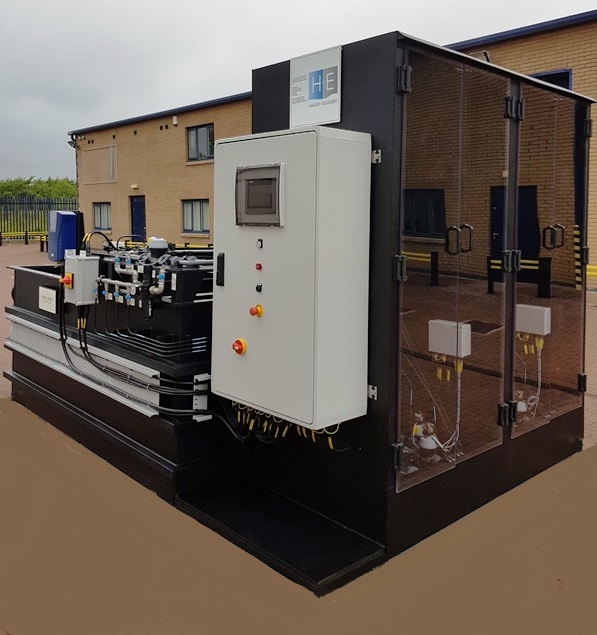 Pre-assembly showing pH adjustment stage on the left and IBC level control on the right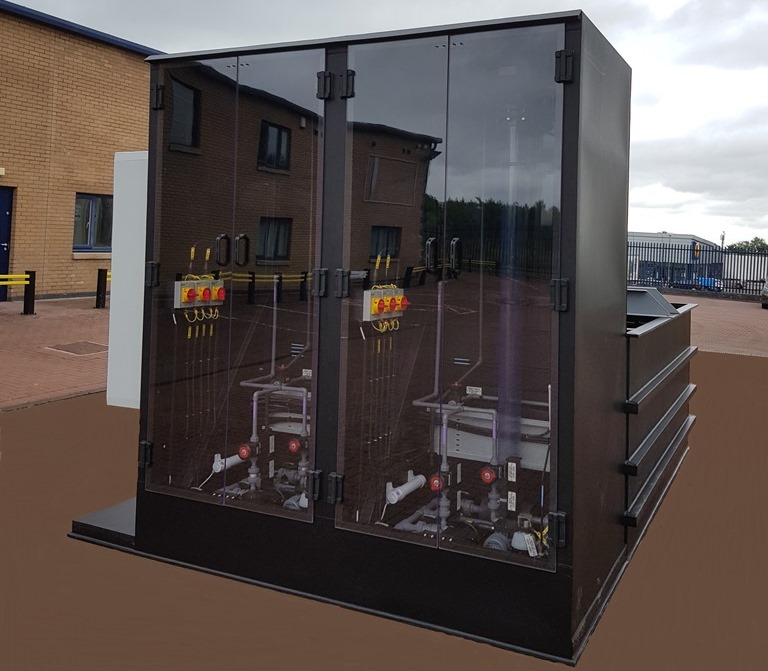 IBC level control Cabinet
The Problem: Wastewater is produced from a number of different sources from this type of plant and has to be carefully treated before it can be safely discharged to foul sewer. Even then, that discharge must be constantly monitored to ensure that its quality is within the prescribed limits. The wastewater can contain very variable concentrations of both suspended solids and chemicals.
The Solution: Solids accumulated from a range of sources will be removed in two settlement stages, operated in parallel to give the plant maximum flexibility and ensure that it is always available. It is anticipated that the incoming wastewater quality will vary significantly and chemical treatment will therefore be required. This will be done completely automatically. The chemicals used for this will be delivered directly from 1m3 Intermediate Bulk Containers (IBC's). For each chemical, two IBCs will be connected via H+E's automated delivery system, developed in-house. In this system, the chemical from each IBC is completely consumed and only then does the system switch automatically to the standby IBC. Thus, the only operator involvement is to change the empty IBC for a new, full one from time to time. Chemical handling and the associated risks are thereby largely avoided.
Prior to discharging the treated wastewater to foul sewer its pH, temperature and flow rate are monitored.
Pre-assembly: Following completion of the design phase, the system will be both manufactured and pre-assembled in H+E's factory. This enables our client to also attend and witness the testing and enables us to ensure that it will function as required immediately on start-up. It also means that, once the equipment has been delivered to site, we can install it very quickly, which has significant benefits for our client.
Once installation is complete, we will commission the system and train the client's staff and then, if the client wishes, provide long-term service and support for the lifetime of the plant. Typically, for this type of plant, lifetime can be expected to exceed 25 years.